KNEE INJURIES
Knee pain secondary to weight lifting is often caused by an overuse injury involving the patello femoral joint, or the quadriceps or patellar tendons. However,tears to the menisci may also occur. Patello femoral pain syndrome may or may not include chondromalacia. Ligamentous problems are rare except when caused by trauma during Olympic weight lifting.
One study  found that former elite weight lifters had a 31% incidence of osteoarthritis of the knee as compared with former runners who had only a 14% increased incidence of osteoarthritis of the knee. The patello femoral joint was the most common location. One should keep in mind that Olympic lifts require ballistically dropping into a very deep squat, to the point where the hamstrings rest against the calves. Such extreme squatting positions result in very high meniscal compressive forces and patello femoral contact forces. Also,competitive lifters often lift maximal weights. Elastic knee wraps are frequently worn while performing squats and other heavy leg exercises with the intention of protecting the knee joint. Such wraps may increase the friction between the patella and the underlying cartilage, thus increasing the risk of knee injury.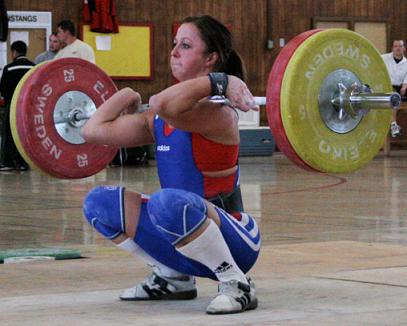 Some general rules of thumb for athletes with patellofemoral pain are:
Do not perform squats through a painful range of motion(often in the midrange).
Do not perform lunges or squats with the knees caving inward (keep the knees over the toes).
Focus on the last 10' to 15' of knee extension when performing knee extension exercises.
Take care not to press the kneecaps into the bench when performing leg curls (or any prone position of exercise). In other words, move toward the foot of the bench so that the patellae are not compressed while the knees are extended.
If the weightlifter has had damage to the anterior cruciate ligament it isimportant to:
Avoid knee extension exercises (especially from 70' of flexion to full extension).
Substitute seated knee extensions with closed chain exercises such as partial squats and leg presses.
Focus on hamstring development (adds some dynamic support).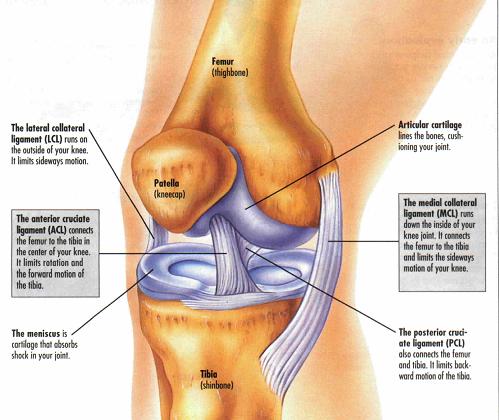 The greatest number of knee injuries occur as the result of hacksquats. However, regular squats, leg presses, knee extensions,lunges, step-ups, and leg curls may all play a role in overuse injuries. In particular, bouncing at the bottom of a squat has been implicated as a cause of patellar tendon strain due to the high eccentric forces generated during this technique. One case report even documents a bilateral quadriceps tendon rupture that occurredwhile squatting.
Categories: None